We get a lot of questions about our 5-Pocket Twill Pants. What material are they made of? How are they different from the Essential Jeans? What do I wear them with? Which color should I get?
Rest assured, we've heard all of your questions and are happy to provide this series of posts dedicated to each color of our 5-Pocket Twill Pants. In the following sections, we'll cover how your 5-Pocket Twill Pants should fit, what colors to wear with them, what to pair them with, and what activities you should wear them to. Let's dive in!
On fit:
Our 5-Pocket Twill Pants are the perfect in-between option of our chino pants and our essential jeans. In fact, we suggest you wear them similarly to how you wear jeans. They're made from 98% Cotton and 2% Elastane to give you the structure and support you'd be looking for in a pair of jeans, while offering a nice amount of stretch for the times you're on the go.
Waist Size
Our 5-Pocket Twill Pants fit very similarly to our chino pants. They're flexible like them as well. When it comes to choosing your waist size, we suggest choosing what normally works for you while keeping in consideration that the fabric is stretchier than a normal denim material.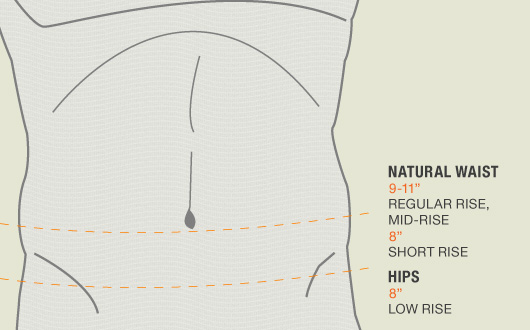 Rise
The rise of our 5-Pocket Twill Pants is a low rise, which means they will sit low on your hips. A low rise on any kind of pant offers a more casual fit and therefore a more casual appearance.
Thighs
Depending on how baggy or fitted you prefer your jeans, the general rule we suggest following is have anywhere between .5″ and 1″ of fabric between your thigh and the jeans themselves. A good way to test this is by pinching the fabric around your thigh and seeing how much fabric you end up with.
Legs
Our 5-Pocket Twill Pants have a slim cut, meaning they're tapered but not too tight in the legs. You can use the same test mentioned above to measure whether or not your jeans are too tight or baggy in the legs.
Now that we've covered the fit of our 5-Pocket Twill Pants, let's talk about the colors you should be wearing our Steel Blue pair in.
On colors:
Our Steel Blue 5-Pocket Twill Pants are a versatile pair of pants. The Steel Blue color is a great tone for any season, but especially Spring and Fall. In general, blue is a color that beautifully compliments nature — leaves and flowers especially. In the following sections about color, feel free to mix and match as you want — personal style is meant to be personal!
White
When you wear a white t-shirt, button-down, or even dress shirt with our Steel Blue 5-Pocket Twill Pants, you'll create a color combo that's incredibly simple but eye-catching. Put simply, a crisp white top with blue pants just pops.
Grey
Another neutral color, grey is good to pair blue with when it feels like white is too bright for the occasion. A grey top or layer is a must when you want to show up looking effortlessly stylish.
Black
Pairing black with blue pants is a good way to bring down the tone of your look, especially when you wear black outerwear or a black top. A simple way to implement black into your outfit would be to wear black shoes.
Now that we've established some basics when it comes to what colors to wear with your Steel Blue 5-Pocket Twill Pants, let's discuss what clothing items you can and should wear them with!
On pairings:
Casual outfit
On activities:
Our Steel Blue 5-Pocket Twill Pants are built for your on-the-go lifestyle. They move with your every step and provide the support you need any time you need a break. The activities you can wear them to are endless, but here are a few ideas.
Running errands
Our 5-Pocket Twill Pants are great for running errands on your days off. Slip them on and go straight to the grocery store, the drycleaners, and even a quick stroll in the park.
On a date
Knowing how versatile these pants are, you can wear these casual for a daytime date or dress them up for an evening date. Up to you!
In the office
Depending on your office dress code, our 5-Pocket Twill Pants are great to wear and pair with any of our button-downs or dress shirts for a solid office uniform.
We've covered everything there is to cover with our Steel Blue 5-Pocket Twill Pants, so we'll leave the next step to you. As I mentioned at the beginning of this post, these rules aren't hard-set and so you can choose to follow them or break them as you wish.
Check out all our full 5-Pocket Twill colors: